How to remove toxic links to a site: What is good backlink? Of course the link which comes from high Authority blog with good anchor text. Toxic links are just opposite to this, toxic links are the links that come from low quality sites as well as which doesn't have relevant anchor text.
How to identify and remove toxic links from your blog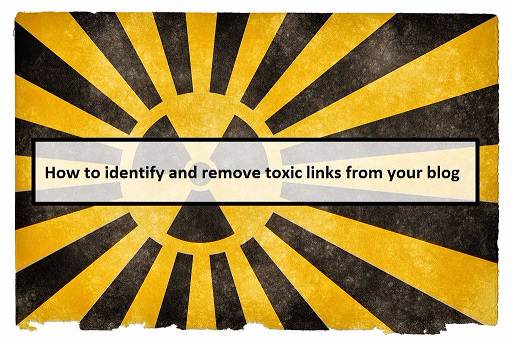 Now a days, many bloggers try to make as much links as possible with intention to rank higher in search engines but in that matter, they make backlinks that are spam backlinks as well as irrelevant backlinks which is called toxic links.
Why toxic links are not good?
It itself says that it is toxic. Let me explain in detail. For instance, I am getting a backlink from dating site but my niche is completely different. So, the backlink is coming from 1 niche to different niche and google is not going to support it.
Due to toxic links, your ranking in search engine may drop. Yes, it can decrease your search engine traffic a lot and that is the reason why toxic links are not good for your site's search engine performance.
One more problem that can occur with toxic links is you will get irrelevant traffic because of it. It is because you will get visitors from the site from which you got that backlinks. For example, I am getting backlink from adult site as a result, i will also get traffic from adult site which don't know anything about this blogs as this blog is completely different then what they are looking for. As a result, they will increase bounce rate of this blog a lot!
There is one more problem that will occur because of toxic links is you can get hit by google panda, penguin or any other google animal. So, if you have toxic links then just think that next target of any google animal will be you perhaps.
So, this is the reasons why i will not like to have toxic backlinks pointing my blog. Toxic links can be made by site owner or it can be created by you unknowingly.
How toxic links are made?
So, as i told you that it can be made by its site owner or it can be also made by you unknowingly. So, let me explain you in detail. For instance, you are new in blogging and you got wrong number from anyone that if you will create lots of backlinks for your blog then you will get boost up in rankings.
You started making lots of backlinks without knowing right ways to make backlinks. Here you are wrong because you will make backlinks with hook or crook and as a result you will get toxic links. When I was newbie in this world, I used to do same and as a result, I started making as many backlinks as it was possible for me. As a result, i got many backlinks that was toxic and i started getting traffic from that site and also I was unable to rank on any keyword.
If you will comment on any site with intention to get dofollow backlink which is not of your niche then you will get un-targeted traffic which is not good for our site as well as it will create toxic link. We need Targeted website traffic to grow and that's why we should not comment on irrelevant blog with link back to our site.
Best practice to comment on irrelevant blogs : If you want to comment on any blog which is of  different niche then while commenting, Enter your name, Email and comment but don't fill anything in website as it is not mandatory.
So, If you have done this and you want to know that how you can identify toxic links then here is it.
How to identify toxic links?
So, before taking action on the backlinks you made till now, let me show you how you can identify toxic backlinks so that you can remove it later. You can get information about your backlinks from webmaster tools. You just have to visit webmaster tools–>Site dashboard–>Search traffic–>links to your site.
Here you will get information about your backlinks. You can also check backlinks from openlinkprofiler.com and more sites that show backlinks of any blog or site. Now, as you have list of total number of backlinks to your blog,
As for now, I am selecting my event blog to show you how you can identify toxic backlinks because mainly event blogs has many toxic backlinks. So, Here is the current situation of backlinks profile of my event blog.

So, this is the link profile of one of my event blog according to Google webmasters. Total there are 5k+ backlinks from which many backlinks are toxic. Google webmasters will show you the domain from which you are getting backlinks to your site whose title is Who links the most. Click on more and you will get whole list of domains from which you are getting backlinks.
Now as you have whole list as i have just like below given image, we can find the domain that is not good for our site.

In total, 49 domains are linking back to my site from which leading is Tylercruz.com which is giving 889 backlinks to 1 page which is homepage. Now, Next step will be to select domains that are with different niche. This is event blog so maximum of them will be on different niche but in long term blog, very few will be with different niche.
By scanning All domains, I Selected some domains that are Toxic for my site. Let me show you signs of toxic links,
Low Authority – If authority of the blog/site from which you are getting backlink to your blog then select that also. Only select if it is not with the targeted anchor text or it is spammed.
Spammed blog or page – Now a days, Reference backlinks are very much popular and that is the reason why many pages on web are badly spammed by references and pingbacks. If you have backlink from the page which is has 100-1000+ external links then select that also.
Different niche – If niche of the blog or site from which you are getting backlink is different then yours then select that domain also.
So, after selecting this type of domains, i made list of this domains in notepad. Enter one domain per one line and make one .txt file.
So that now you know that which domain is toxic for your blog, now it is time to kick them out from your blog's link profile so that you can get some improvement in traffic as well as in Rankings also in google. So, let us kick them out.
There is whole method to disavow toxic backlinks from your blog's backink profile. I will explain this whole method in detail.
How to remove toxic links?
Now as you know that toxic links are not good for your site for various reasons,  we have to remove them as soon as possible by which we can see improvements in our search traffic as well as in bounce rate if you are getting traffic from that toxic links.
As now you have made list of all the domains that are giving you toxic links, you have to contact owner of that site to inform that they have linked by mistake or any other reason. You have to tell them to remove that link that is pointing your blog.
You can contact admins of that blog from their contact us page or by any ways you have to tell them that you want to remove that link from their website. After contacting them, if your link is removed, you have to remove that domain form the list we made.
For instance, if your link is removed from 3 domains out of 5, you have to remove 3 domains from that list and for that 2 domains, you have to make .txt file as follows,
#We tried to remove backlinks from this sites but we didn't got our link removed. We want to disavow this domains.
domain:exampledomain1.com
domain:exampledomain2.com
domain:xyz.com
after making this file, we have to handle this file to google and then google will do their work. They will ignore backlinks that are from this domains while ranking your site in SERPs or anywhere else. I am showing you how you can do this,
First of all, you have to open Google's disavow tool. Here, you have to select the website from which you want to disavow backlinks. In this case, website will be happyholi2018.org just as given below,
After selecting domain, click on Disavow links button and now you will be redirected to the page on which there will be button again on which Disavow links will be written. Click on that and one new popup will be opened just like this,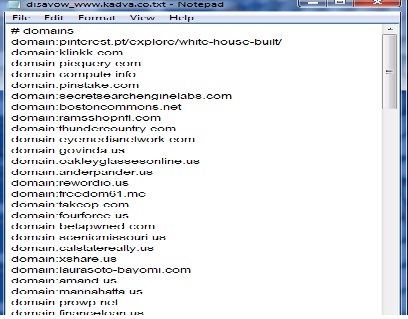 Now, click on Choose file and select file that we made after contacting website owners. Upload that file and then click on Submit.
After that, our work is over. Now, google will not take that backlinks in consideration at a time of ranking or anywhere else. Simply, they will ignore links from that domain.
Its your time:
So, after this, you know that what are the problems with toxic links, how to identify toxic links and how you can get rid of  toxic links. So, first of all, you have to remove toxic links from your blog's link profile as soon as possible.
If you are providing any type of widgets from which you will get backlinks then you will have many toxic links that you have to disavow regularly. Check your links and remove toxic links once in a month if you make backlinks for your blog with any other then recommended techniques. If you have any question or want to say anything about this article then comment down because i like comments and social shares a lot.