Backlinks for event blog: We all know what event blogging is because that is a way to make many dollars quickly. For those who don't know, Event blogging is a type of blogging which is only done for any event. For example, Mother's day is coming close and at mother's day, Search volume of the keywords like "Happy mother's day" and "Happy Mother's Day 2018" and many other keywords are in lacs.
So, if we remain successful in ranking on that keywords, we will get more and more traffic from that and from that we can make dollars in a single day. If you want to get backlinks for long term blog then you can use Link wheel strategy.
5000+ Backlinks for Event Blog
If you do event blogging then you might be knowing that for event blogging, we have to make backlinks in 4 figures to get rank on any keyword. You have to make all backlinks in just 10-15 days and yes, In this case also, I started working on backlinks before 10-15 days and this 5000+ backlinks are the results of 10-15 days of work and that was also not hard.
In this article, I will reveal that what I did to get this much backlinks in short time becuase many event bloggers find this part very hard and yes it is. I also want to inform you that the backlinks that was created by me were PR3,PR4,PR5,PR6,PR7. Yes, you are reading right. I will reveal all this things in this single article. Now let us start,
1. I used footprints that work
I. Type 1 footprints
Yes, I used footprints that really works and they gave me great results. I have 3-4 working footprints that i used and i got many pages on which I can comment and I can get backlinks for free. One of the footprint is,
site:.edu "post a comment" -"You must be logged in" Your_keyword_without_quotes inurl:blog
You just have to do is to copy and paste this whole footprint in google search bar and you have to replace Your_keyword_without_quotes and then you will get .edu blogs on which you can comment to get backlinks for your event blog. Similarly, if you want .gov blogs by commenting on which you can get .gov backlinks, you can use this footprint,
site:.gov "post a comment" -"You must be logged in" Your_keyword_without_quotes inurl:blog
If you want explanation of this footprints then they are ready but before that, you have to learn what are google advanced search operators. Explanation is given below,
1. site:.gov or site:.edu: By using this, you will get results with .edu or .gov domain.
2. "post a comment": This will tell search engine to only show the pages that contains post a comment without event changing its order. So, you only get pages which allows users to comment.
3. "you must be logged in": On many pages, you have to log in to make comment because they doesn't allow anyone to comment anonymously. This will remove that type of pages and finally, the pages that will remain in search results allow users to comment anonymously. One more thing, anonymously doesn't means that you don't have to enter email.
4. inurl:blog: This will find the pages that contains blog word in URL of the page. This is added to footprint because .edu or .gov domain will not be registered for any blog. It will be a site and this will find the site which contains its blog on which articles are published.
II. Type 2 footprints
There is one footprint by which you can get pages that allow tags like <a> and many more while writing comment. If you will find that type of blogs then you can take backlinks from them by manually adding dofollow backlinks pointing your blog. Following is a footprint to find that type of blogs.
"Allowed HTML tags:" your_keyword_without_quotes
By using this, you will find blogs that allows HTML tags in comments. So, you can easily get backlinks by commenting on it. I Don't exactly remember the number but by using this technique, I made many PR6,PR5,PR4 backlinks. You can also do Link wheel creation to rank your blog and this works on long term blog as well as short term blog also.
2. Top commentor activated blogs
This is the best and easiest way to get bulk links in short time. I think you know about sitewide links. Sitewide links are the links that are given to any other site from every page of any site. For example, If i will add your link from sidebar of my blog, you will get 1 link from every page and post of this site. So, Number of pages in this blog equals to links you got.
There are some blogs that use top commentors plugin and feature top commentors of month or week in sidebar of the blog or footer of the blog. No one will like if anyone will take sitewide link for free just by commenting so everyone gives nofollow. Still there are some blogs that give dofollow links to top commentors. I did research on that and found some blogs that are still giving dofollow backlinks to top commentors.
It is easy to get sitewide links from that blogs because you just need 2-3 approved comments to get listed as top commentor and you will get sitewide links. I am posting link of some blogs whose PR is 3,4 and they have thousands of pages. You just need few comments approved and you will get thousands of PR3,PR4 dofollow backlinks.
List is:
Blogs

| no | Blog | PR |
| --- | --- | --- |
| 1 | kadvacorp.com | PR3 |
| 2 | bethere2day.com | PR3 |
| 3 | deansaliba.com | PR3 |
| 4 | 52insk.com | PR3 |
| 5 | arkitecture.org | PR3 |
| 6 | pinaymommyonline.com | PR3 |
| 7 | velvet-rose.net | PR3 |
| 8 | yourpfpro.com | PR3 |
| 9 | eldercareabcblog.com | PR3 |
| 10 | jejeizahfaye.com | PR2 |
| 11 | ppcian.com | PR3 |
| 12 | hawaiikawaii.net | PR3 |
| 13 | bookscompleteme.com | PR3 |
| 14 | popculturenerd.com | PR4 |
By commenting on this blogs you will get sitewide links. It doesn't means that you can do spamming on that blogs. You have to post meaningful comments on that blogs. So, don't spam their blogs because by that, they will face problems. Some blogs from this list are auto approve so you don't have to take care about approval but comment meaningful comments. Don't do spam. I got adsense approved with 2 days old blog having 4 copied article.
3. Create response backlinks (If you have time)
This technique is also very unique and very effective to make backlinks for event blog. By using this technique, you can make hundreds of high PR backlinks to rank your event blog. Not only backlinks but you can get backlinks with desired keywords in it! So, let me show you how you can get that. Response backlinks can be created in limit if you are using normal browser. You can make unlimited response backlinks using Tor browser. If you want to know more about kyword research then you can go through Ultimate keyword research guide on this blog.
First of all, you have to use one footprint by which we can get blogs or pages that accepts Responses, Footprint is My response is on my own website. You have to copy-paste this footprint in google search and have to search for it. After that you have to visit that page. You will get some ready made responses there just like below given image.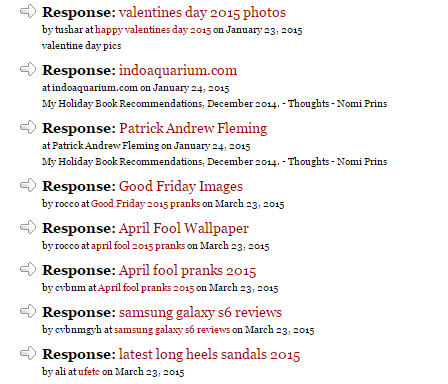 As you can see that they are dofollow backlinks and also they are with anchor text. let me tell you that the page from which i got this responses is PR4. Keep scrolling and you will get one link with anchor text My response is on my own website. Just like this image,
Next, you have to click on that link and one new form will be loaded with new fields Just like this form,
Now, you have to fill this form with desired information and then you have to click on Create Reference and that's all. Your Backlinks for event blog will be ready. Note that some blogs will first check your reference and then moderators will decide that your reference can be shown or not! So, If there is something like warning below that form then just reject that site and create same on other site.
This will give you 1-2 HQ and high PR backlinks and you can make hundreds and thousands of Backlinks for event blog by this technique but this takes more time! So, if you have time left for your event then you can make this backlinks.
How to make Backlinks for event blog Conclusion:
This technique helped me to get 5000+ backlinks from PR3,PR4,PR5,PR6,PR7 blogs and by using this techniques, you can also get thousands of backlinks in short time. So, use this technique and get backlinks for free. If you have any question regarding this topic or if you want to just say thanks, just comment below so I can see that you liked it or not. I will regularly update this post with high quality techniques to get backlinks for event blogs. Thanks…