Trying to write content faster?
In the most cases, our normal target remains 1000 words per article if you are writing an article to get rank on the search engine for targeted keyword as well as providing rich content to the user.
Writing long articles is better for you as well as the user as well as search engines. Short articles ranging from 300-500 words are nowhere in competition for profitable keywords nowadays.
How to write publish ready 1000+ words content Quickly!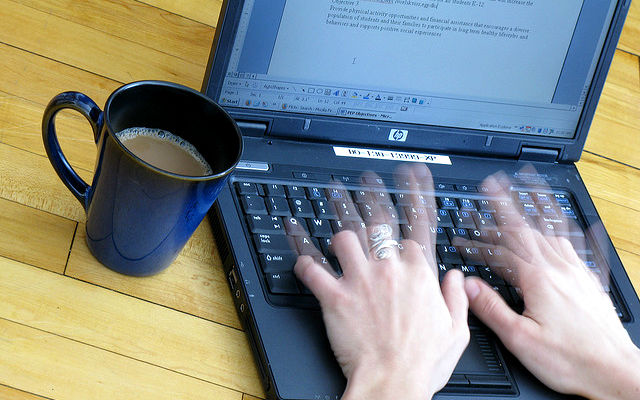 It is because Google wants to show complete articles having each and every information that user is looking. That's why, if your articles lack content, you'll fail to rank for the targeted keyword.
It's not like writing content forcefully and stretch it to 1000+ words every time. It will not work.
Your article should be useful and interesting for users. They should get an answer of what they are looking for, Perfectly.
According to the mentality of the majority of the bloggers, writing 1000+ words content per article is hard. Honestly, It's not.
You can check the size of every article recently posted on my blogs. You'll get numbers like 1200+ at least. It takes about 2 hours to write such articles.
NOTE : Don't think that if your typing speed is higher, you can write publish ready article at that rate. If your typing speed is 100 words per minute, it does not mean that you can write 1000 words content in 10 minutes…
I'm not saying that your typing speed will not help you to write articles faster. You'll write content faster if your typing speed is higher than one with less typing speed.
Leaving all other things back, Let me tell you some great techniques which will help you to write content faster.
1. Faster Execution
Faster Execution is essential.
When I was new to blogging, I used to think like Just One more song, and I will start writing. In reality, I used to waste many hours listening to songs and thinking that I will start writing after this one.
It never helped me to get started with the article. You are free to Mark that once you get started with the article, you'll complete it as soon as possible, but if you do not start, you'll waste your time thinking about it.
If you fail to get started, you'll never complete your 1-hour work in 1 hour. You'll just waste your time thinking you'll start and complete it as soon as possible but, You'll fail.
No one can help you in this case except yourself. You can use the Extension named StayFocused to block the site that is distracting you from getting started.
Here's how you can block the site using StayFocused.
Once you install StayFocused on your Chrome, you'll get such dashboard by clicking on StayFocused Icon -> Settings.
From the sidebar given at the left side, click on the Blocked Sites. You'll get one Box in which you can enter the URL of the site you want to block. Here I am going to show you practically.
After adding the site to blocked list, you'll be able to access the site for the specific time that you have set in the Max time allowed tab you get first when you open the Settingsof the StayFocused.
Now, Let me show you what happens when you try to open any site more than you are allowed. For example, Here the Screen I got when I tried to open facebook.com.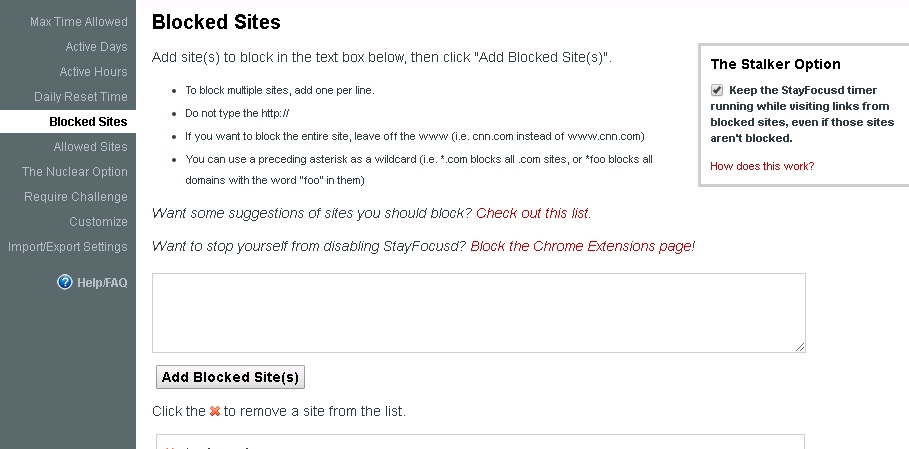 Finally, it will not allow you to open the site you have added to the blocked list. It's the great tool, and it's completely free!
Many bloggers are addicted to Facebook and Youtube. You can simply use this tool to block them, and you'll execute faster after doing so.
So, this is how you can help yourself to Execute faster.
2. Use Faster Extensions or tools
We use some extensions and tools while writing the articles like Extension to take the screenshot of the part of the screen.
If you are using some slow extensions, you'll not be able to write content faster.
In my case, I prefer using Lightshot over Evernote to take the screenshot of the screen.
Yes, Evernote is unbeatable because it has more functions and the editing done on the screenshot using Evernote looks better because of better graphics but it take a time to download and compress the image using Evernote.
That's why, I like to use Lightshot because, in the case of Lightshot, you just have to click on the extension icon and the next you have to select the area to take a screenshot.
It's true that you will not get many options to edit the screenshot you've taken, but it's faster.
Every screenshot you can see in the article is taken by LightShot, and it took me less than 30 seconds per screenshot to take it and upload it to the WordPress article at the specific part of the post.
3. Increase your typing speed
It will affect a lot if your typing speed is less than 30 words per minute.
I'm not saying that if you have a typing speed of 30+ words per minute, you're going right.
If you are a blogger, you need the typing speed of at least 70 words per minute.
What if your typing speed is less than that?
It's simple; Practice makes man perfect! Just use some tools to increase the typing speed by practicing. Here're the tools I use.
They worked fine for me! I've taken my typing speed from 40 words per minute to 75 words per minute using these two typing tools.
You can use the #3 typing tool if you are pure new to blogging and want to learn to type from scratch!
Typing Tool #1: KeyHero
KeyHero will is the ultimate tool to check typing speed and to practice.
I'm the fan of this tool, and I use it regularly to improve my typing speed.
You can just open the KeyHero Typing test and start typing! It will show you simple quote that you have to repeat in the box given in which you have to type. Just like the image given here!
By signing up with this tool, you can also keep track of your typing speed so that you can know how much you are getting improved.
It's completely free. Enjoy!
Typing Tool #2: 10fastfingers
10FastFingers helped me a lot to improve my typing speed a lot!
It's just a simple tool which will show you random words that you have to type. One drawback of this tool is you will not get whole sentences due to which, you'll not be able to use the keys like Inverted_comma(') and so.
You will just get simple words that you have to type in the typing box. Here's how it looks like…

At the end of one minute, you will see how much is your typing speed, how many right words you have typed, how many wrong words you have typed and all.
It's very much simple. You can register to keep track of your typing speed. You can also use it without signing up!
Typing Tool #3: Ratatype
If you are completely new who wants to learn to type from scratch like me, you can take advantage of Ratatype.
You have to register to get started. Without Registering, you can't use this tool.
Once registered, it will train you from how to put your hands on the keyboard to how to type faster with all ten fingers. Here's how it looks like…
I've not used it a lot, but It's really good online tool to learn to type.
4. Structure your article before starting
Next Article I am going to write will be on this topic in detail.
You should structure your article before writing it. The points you want to cover in your article should be clear to you.
Here's the Simple structure of any article.
Title (H1)

Introduction (200-300 words)

Sub-headings(H2)

Content

Content

Content

Content

Footer (Conclusion or wrapping it up part simply)
You can add as many Sub-headings as you want. You can also add as much content as needed in each sub-heading. You can also add H3 sub-headings under H2 sub-headings.
For example, you can see the content given here! You will find similar structure.
What I exactly do is I Structure it properly before getting started. I put the exact Sub-headings and Headings inside Sub-headings if needed.
What next I have to do is to type the real content which is not the big deal. It helps me a lot to write the whole article very fast.
5. Filter Noise Related Distractions
No one likes to type and think together in the environment with unwanted noise.
You can boost up your productivity by Filtering them out. Currently, while writing this article, I am listening to the slow and steady music which helps me to filter out the un-wanted noise.
You can use the tools like Noisli.com to filter them out. That tool will help you to feel calm which will increase your productivity a lot!
So, this is how you can get rid of Noise related Distractions.
6. Don't care about SEO while writing content
When I was new to the world of blogging, I used to be like, I will optimize the content while writing it. I used to enter the keywords in the article while writing it.
It used to suck my time a lot and yes, Articles I used to write in this way were not User-friendly at all.
You should not care about SEO while writing the article. Just write whatever you think about the topic you are writing and you will write the best.
If you try to insert keywords in the article while writing it, It will take more time to complete the article.
Long story short, Doesn't waste your time editing the article while writing it…
Conclusion: Writing more content means making more money, For bloggers at least. You should generate more content as possible to get more traffic from search engine.
You can surely use the points given above to increase your speed to write articles on your blogs. For any questions, Comment section is available, I will help you to solve your queries. Let me know how's it. Share this with your friends on social media to help me spread the hard earned knowledge.