What is keyword research? SEO is a term which is very much misunderstood now a days. After launching Google panda and Google penguin, Only backlinks will not do anything except penalty. Yes, If you will create irrelevant backlinks just to rank, then you will be penalized by google. It is also possible to rank by High quality content and proper keyword research and analysis also. For example, you can take this blog, You will get results on first page if you will search "backlinks for event blog" or "Link wheel strategy".
You will not believe but they are ranking only with proper keyword research and high quality content. High quality content here means that any 6-7th grader should also understand article.
How to Do Keyword Research?
And For keyword research, I have created this keyword research guide in which I will explain effective keyword research techniques by which you can find low competition keywords on which you can rank easily if you write high quality Content.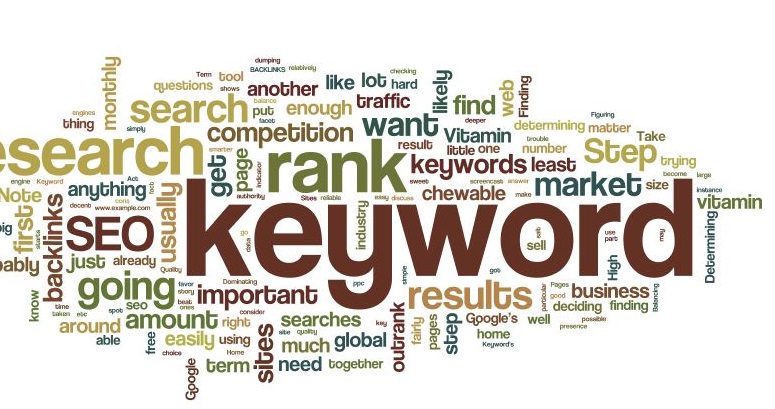 First of all you should be aware of Keyword planner by which you can know search volume and bid of any keyword. You can use this tool only if you are 18+ and i know because I tried to enter in it and already got 1 warning from google because i am 17. So, If you are not registered for it then go to keyword planner and register for it! There are some steps which we have to follow to get keywords on which we can rank,
1. Finding long tail keywords
This is the first step we have to complete. Let me explain you what long term keywords means,
What are the long tail keywords?
Long tail keywords are the keywords that have comparatively more number of words. For example, Luxury watches is not a long tail keyword while Luxury watches for men is long tail keyword. In short, Long tail keywords contains more number of words then normal keyword.
Logic behind looking for long tail keywords is it is comparatively easy to rank on long tail keywords because it has more words in it and it is specific. One another benefit of ranking on long tail keyword is you will get more targeted visitors then you will get at normal short tail keywords. Now let me show you techniques to find long tail keywords,
I. Google's Auto complete
Google is just like a ladies, If you will write 3 words search term there then it will give you 4-5 words search terms without asking for it. Then we should take advantage of it. If you are unable to understand what i mean then see below given image,
You can see that when i entered Backlinks for , google gave me 4 suggestions for it. This suggestions are search terms which are getting more searches comparatively. So, You can make your short keyword a long tail keyword using this technique.
You want full list of suggestions to get more number of keywords on which you can rank. As a solution you need to enter Backlinks for a by which you will get suggestions whose 3rd word will be started with letter A like i did in this image,

I did only for a and got this suggestions. To make a list in which we will have every suggestion from A to Z then this technique will be more time consuming. This is a problem for us because we will not like to waste lot of time only doing looking for long term keyword in suggestions because this is just a first step of keyword reasearch. To do this work in few seconds, there are some tools for it.
II. Uber Suggest (also Solution of 1)
This is very simple tool and very effective tool to get list of the suggestions that google gives us. What it will do is it will give you a list of suggestions that google gives. Uber suggest will will do this work in few seconds for which we need hours if we decide to do it manually.
First of all, you have to visit Ubersuggest.org. (now neil patel) On that page, you will find one box in which you have to enter your main keyword in place of query… and also you have to enter language just like this image,
Here, you have to enter main keyword and next thing you have to do is to click on Suggest and that's all, Uber suggest tool will give you suggestions in some seconds only. What this tool does is it will take every suggestions that is given by google from A to Z after one word of main keyword. Just like this image,
You can now understand that what this tool does. Now next work is to gather all relevant keywords from this list of hundreds of long tail keyword. What you have to do is you have to click on "+" sign and that keyword will be added in your list which will be shown in sidebar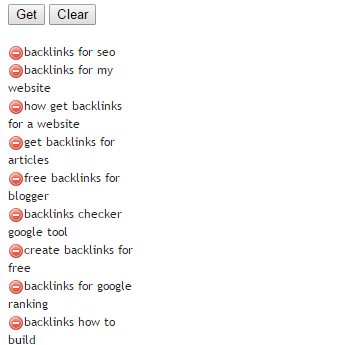 Now, time to get this keywords. Click on Get button and list of the selected keywords will be ready for you. Now, you have to copy all that keywords from that pop-up box to any text editor like notepad because we need this keyword to get its search volume which will be discussed in next Step of keyword research. Here is one more way to get long tail keywords,
III. Google's "Search related to …"
Whenever you search any term, Google suggest some other search terms at a end of the page. For example, I searched Get backlinks in google and after 10 results, I got this,

So, I searched for 2 words long search term and this one gave me 1 keyword containing 4 words,2 keywords containing 5 words and 1 keyword containing 7 words! Woah… We should add this keywords also to our list we made in notepad. Don't forget that we have to add only long tail keywords so don't add keywords  like Buy backlinks and free backlinks. Don't select out dated keywords like How to get backlinks 2012 because currently 2018/2019 is going on i think.
Now, We have a big list in notepad that contains long tail keywords having equal to or more then 4 words and one more good thing is we have more then 15 keywords as given below,
Now, First step of this guide which is Finding long tail keywords is now completed because now you know that how to get Long tail keywords for your next article. Now, Let us move to next step which is dependent on selecting best keywords from this for your site or article.
2. Analyzing them in keyword planner
Yes we got many keywords but we can't use them directly because we don't know how much search volume they has and from which country they will get visitors and all! We have to make sure that the keyword for which we are optimizing article doesn't have 0 search volume. We also have to remove keywords that we don't want in our article or keyword. So, let me show you how to analyze keywords in keyword planner.
First of all, you have to open keyword planner and after loading, there will be 4 options there just like this image,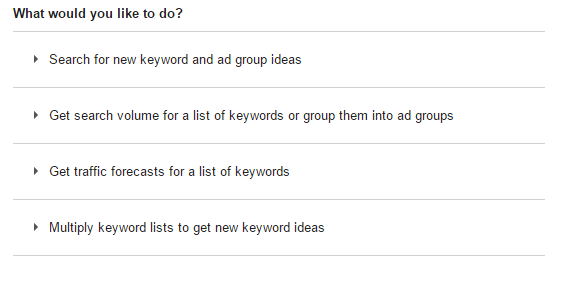 As we already have keyword, we have to select second option and we have to copy-paste all keywords in it or you can upload that txt file also. Then, you have to click on Get search volumeand that's all, Now you will get search volume of keywords you entered. You will get monthly search volume per keyword and also combined search volume in graph just like this,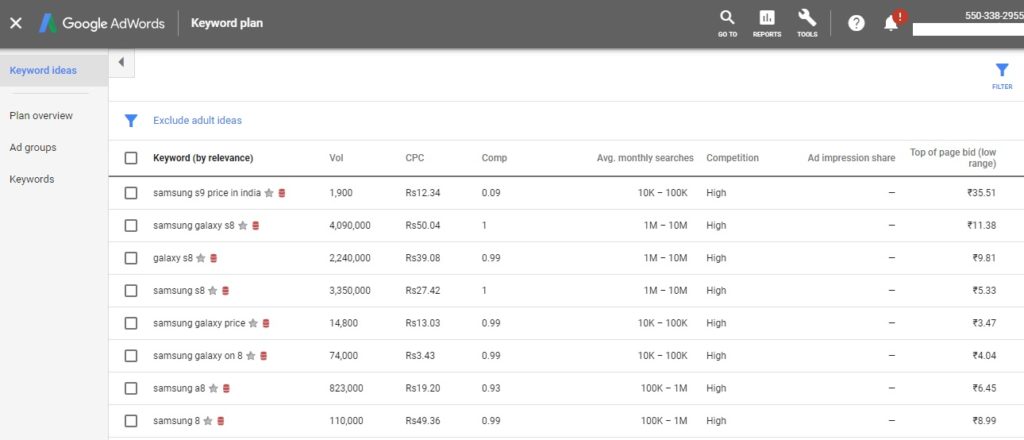 As you can see that google keyword planner is showing keyword, monthly search volume, Competition and Suggested bid. They mean,
keyword – It is a keyword we entered.
Avg. Monthly searches – It means that how many times, this search term is used in month by google users.
Competition – This is not for us. Many bloggers consider this as a competition but it is a competition for adword users. Not for bloggers.
Suggested Bid – Suggested bid is also for Adwords users but this is beneficial for us to know. If we will rank on any keyword and we will show adsense ads on our blog then per click, Advertisers pay the amount given in Suggested bid to google and we will also get part from it.
So, Now we have to remove keywords that doesn't have more then 10 monthly search volume. There are some keywords from this list that can be removed.
I removed keywords that contain less then 10 searches and month and you can also remove keywords with 10-20 monthly searches also because they are not going to give us a good amount of traffic.
Now, If we want to see that remaining 9 keywords has how much searches from which country then You have to click on Search volume trends–>Breakdown by location and that's all, Now you will get pie chart with locations from which this search term is searched. In this case the result is as given below,
You can see that From india, Combining all 9 keywords gets 125 searches a month. Then after United stats has 60 searches(CPC of united states is best). Then after United kingdom and then pakistan. By this, We can target anyone country from which we want traffic. For example, If we will get more traffic from united states then we will get High CPC in google adsense in comparison with india. India has very low CPC.
So, I got information about location. Now, I want to know that from which device, this search terms are searched by google users. So, Now I will click on Breakdown by location–>Breakdown by Device and i will again get pie chart like below given image,
Now, We can see that 87.1% searches are done using computers, 8.4% Searches are done using mobiles and 4.5% searches are done using Tablets. Benefit of doing this is you can come to know that the keyword from which you are going to get more traffic is Computers,Mobiles or Tablets and according to that, you can select best advertisement placements to generate more revenue.
Now, if you don't want any word in keywords like for example, I don't want a word free from the list of keywords we made. So, In sidebar there is one small box on which Negative keywords is written. Now, I will click on it and in the field, I will write the word Free and now, Keyword planner will exclude keywords that are having the word free in the list.

There is also one feature by which you can exclude keywords that are not having any specific word. This type of settings in our keyword list can be done from sidebar only. We can also filter the keywords according to its search volume. by default, We will get history of search volume of any keyword of 12 months. I need more then that or less then that. So, I can change it by clicking on Date range in sidebar and then by setting up starting and ending month.
So, Now we got a list of keywords that we want according to its search volume, Targeting loctions, Devices and negative keywords. Now, We have to see how much competition each keyword has so that we can decide whether we can rank on it or not! .
3. Checking Competition
This is most important part of this keyword research guide. We got keywords to write on but if we will write on any keyword for which authority sites are ranking on first page then we should not think about ranking on that keyword. Many bloggers believe that higher search volume means higher competition but this is not true. Sometimes you will get keywords which has search volume of 50 and in first page, All positions are covered by authority sites.
So, We need to analyze competition of the keyword for which we want to rank. There are many ways o check competition of any keyword and i will show you how you can do that. The best method to do is manually moving our eyeballs on currently ranking sites using some tools and extensions.
The best extensions to do this is SEOquake and MozBar. I use this both extensions to do this, First of all, we have to select one keyword and we have to search same in google. For instance, I have selected How to get backlinks fast from this list and I am gonna search it in google.
There sites that are ranking on that keyword are very high authority sites like backlinko,Shoutmeloud and many more with whom we can't compete because they have many backlinks and PR. We have to check DA and PA as well as PR of the pages that are ranking on that keyword. For example, Top 2 results of this keywords has DA of 52 and 70 respectively. They have PR2(Shoutmeloud) and PR4(backlinko) so in terms of PR also, We can't compete.
You can clearly see that Competition to rank on this keyword in top 3 is almost impossible until we have High DA and High PR blog with long and High quality article on this keyword. I will not create article on this keyword because It is very competitive and you need to write thousands of words to rank on it!
Now, Same should be done with Another keyword. It is not necessary every time that High PR and high DA site is ranks every time because all depends on quality of content. For instance, You can see this site ranking on 4th position with keyword Link wheel strategy. There are some tools provided by Moz also to check competition of keywords but that is paid one!
So, If you got any keyword on which sites ranking has comparatively low DA and PR then we can rank on that keyword by creating competitive article in terms of quality and quantity. For instance, We got keyword on which ranking sites are having DA of 30-40 and PR of 1-3 then we can rank on that keyword by writing article with more content and more Quality then they have.
First thing you have to do is to open all pages that are ranking on that keyword and then you have to get information about that article like page elements and keyword density and all! If you have installed SEOquake on your browser then it is very much easy. You have to do is to right click on content and then you have to hover on SEOquake and then click on Keyword density as given in below given image.
Now, You will get whole information about that page like page elements and density of each keyword in that article like below given image.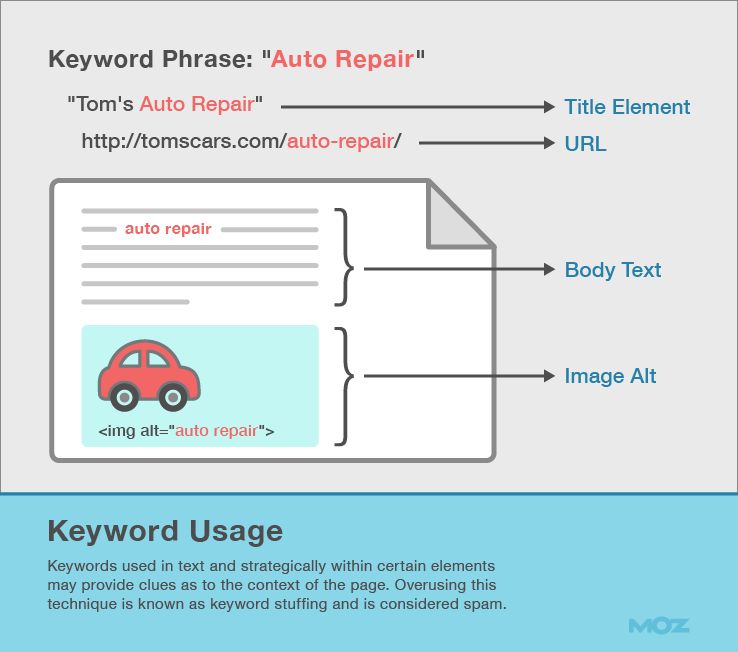 By this you can check Page elements like meta keywords and meta description and title and Keyword density. Currently it is showing keyword density of 1 phrase keyword and by scrolling down it will show you keyword density of 2-phrase keyword,3-phrase keyword and also 4-phrase keywords also. By this way you can analyze article of your competitor and if you can do better then this then you can rank on that keyword and start grabbing traffic and rank.
Conclusion: The real aim of creating this keyword research guide and analysis was to show you how you can do keyword research to get best keywords on which you can rank. There are mainly 3 steps to do keyword research which is covered in deep in this article and I hope you will share it if you liked it!
If you have any questions regarding this guide or have any other questions regarding keyword research then you can comment below. You can also comment to say thanks because I love comments and social shares a lot! I will keep creating this type of articles and guides for you and for this blog…