What is verified digital signature in aadhaar card? Why it is became so important? Let's have a clear doubt about E-aadhar verification with digital signature, after downloading your aadhaar card online. There are few softwares and methods available to validate digital signature. So, check ahead in this article about how to validate digital signature in downloaded Aadhaar? What are the procedure for Validate your Aadhaar Card Digital signature using Acrobat Reader software?
How to validate digital signature in aadhaar card?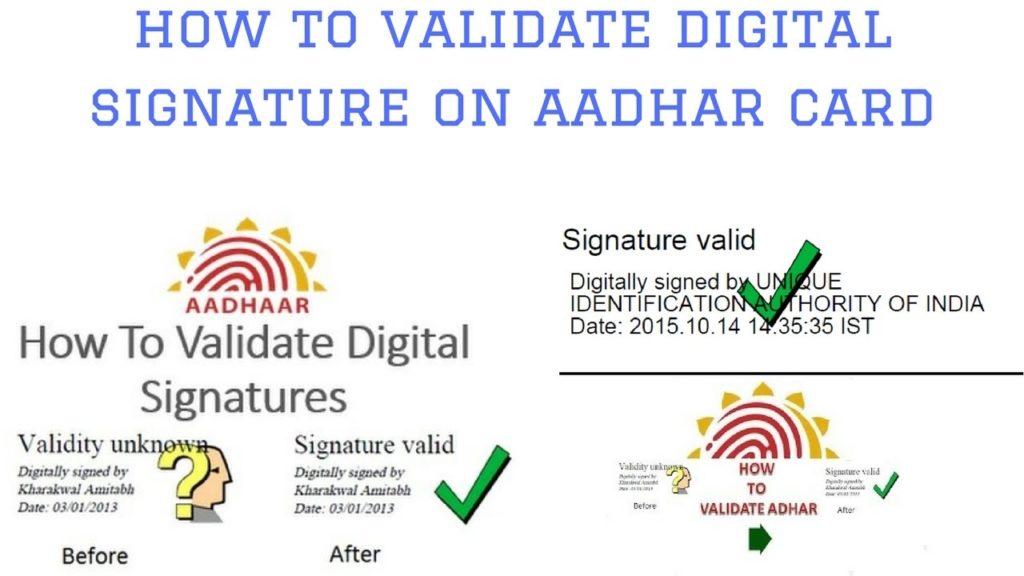 Digital Signature not Verified in E-Aadhar Card?
Actually, so many people are getting confused What is Validation of Aadhaar Card. Follow the step.
Aadhaar Card Download…

You can open the website eaadhaar.uidai.gov.in. After entering in E-Aadhaar website you can see the Validate Option.
You will get the signature validation status window, click on 'Signature Properties'.
Click on 'Show Certificate.'
Verify that there is a certification path named 'CCA India 2011'. This identifies CCA India as the owner of the digital certificate that has been used when signing the document.
Mark the certification path named 'CCA India 2011', click the 'Trust' tab and then 'Add to Trusted Identities'.
Answer 'OK' to any security question that follows.
Check(√) the field for 'Use this certificate as a trusted root' and click 'OK' twice to close this and the next window.
Click 'Validate Signature' to execute the validation.
how to fix: This occurs when the digital certificate and digital signature associated with the PDF file have not yet been verified on the system.
Steps to Validate Digital Signature in Aadhaar Card
Please follow these steps to verify the digital certificates and digital signatures received from trusted sources:
Open the PDF file in PDF Converter Professional.
Left-click on the Digital Signature field.
Click "Verify Signature".
Click "Properties".
And Click "Verify Identity".
Add "Contact information for certificate owner:".
Click "Add to List".
Click "Close".
Next Click "Verify Signature".
The "Validity Status" should now show "Signature is valid".
Click "Close".
Digital Signature should now display a check mark and "Signature Valid".
Digital signatures display a question mark and a "Validity Unknown" or "Signature not verified!" message.
So, this is all about validate digital signature in aadhaar card. If you have any further doubts, pleas write to me, I will try my best to solve it. And stayed tune for more updates on Aadhaar card updates.