WordPress is most used CMS to manage blogs. WordPress is used by 75 million websites including this and some popular sites also. WordPress has one unique feature that it gives link back to comment author or the person who comments on any WordPress blog.
WordPress blogs also give Do-follow backlinks by which comment author gets high quality backlink. There is one more genuine and usable high quality backlink making technique called Link wheel creation by which you will get very HQ backlinks and also its legal…
How to stop spam blog comments?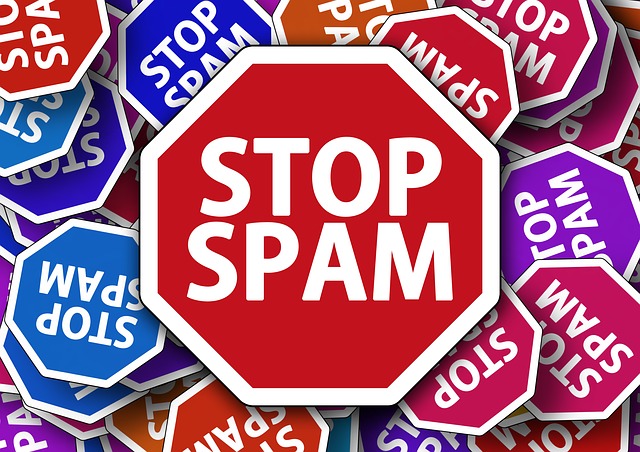 This feature of WordPress is great if you use it in limit. Some event bloggers and Spammers do spamming in WordPress blog to get tons of back-links by spam blog comments by which they can rank on the top without hard work. Actually in this case, Tools do work for them. That tools will comment with random name and random email on your blog and you will approve it if moderation is needed.
WordPress blogs start getting spam comments on second day itself. So, protecting our new WordPress blog is essential because if we will not protect it, then it will become home of spammers to get backlinks. So, here I am back to give tips by which you can protect your blog from spammers.
Use Akismet plug-in:
Akismet is one stop plugin for wordpress to make your site comment spam free. Akismet is quite easy to setup because you just have to install plugin and have to implement API key and that's all. You can easily get API key from its site. It is free for personal blogs and paid for commercial blogs.
Akismet has huge database of spammers so it knows that who is doing comment spam and who doesn't. If you have huge traffic on your blog and want to get rid of comment spam as well as short comments, then Akismet is best for it. One one of my other blog, I was getting 100+ spam comments a day in pending status. After installing Akismet all 100+ comments knocks the door of Spam folder only.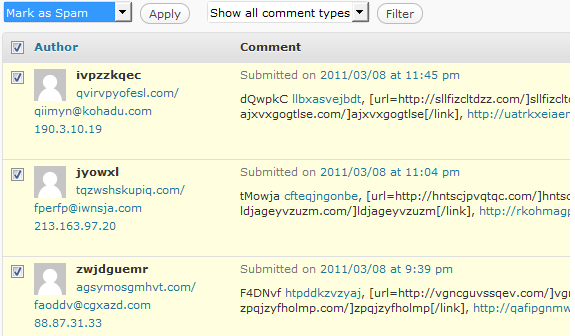 On this blog also, on second day itself, I got 2-3 spam comments but I found them in SPAM folder because I am using Akismet on this blog.
WP-SpamShield Anti-Spam
Wp-SpamShield is One another plugin that can help you to make your wordpress blog comment spam free. This plugin is just a firewall by which no spammer can come in. This plugin works on 2 layers namely Cookies layer and Algorithmic layer. Plugin is trusted by 403,710 users and has been voted 5/5 by 55 users.
Not only comments, I faced one more problem with wordpress is some 10-20 users registered to my wordpress blog and all of them were spammers. So, this plugin will help you from that spam registrations also. One more good thing about this plugin is it is free for personal site as well as Commercial site. There are no hidden fees or charges to use this plugin.
I don't think that there are good alternatives of WP-SPamShield Anti-Spam plugin because this plugin does everything for you and its also free. So, this is one stop plugin if you don't want to use Akismet.
Tell your visitors to solve CAPTCHA to comment
What i told in starting of this article? That spam comments are done by bots or tools not by real persons. So, bots can't solve captcha and if they can't solve captcha then they can't comment on your blog. If any real visitor want to comment on your blog then they can comment by solving captcha as they are real persons so that they can solve captcha without any trouble.
Don't worry because there are some plugins to create and implement captcha. One plugin whose name is captcha itself which is trusted by 2,550,838 users will make your work very easy. I also use this plugin all i can say is this plugin is damn easy to use and will not allow any comment whose owner will solve captcha properly.
There might be some alternatives of this plugin but I don't think that anyone can compete this plugin. Some intelligent bots can also solve captcha but that comments will be filtered by Akismet or any other plugin.
So, using both will make your site very much secure with 0 spam comments. I used it in my old blog but in this one, I only use akismet to make my blog spam comments free. Here is a Cheat sheet to optimize your wordpress for search engines.
Conclusion : By using this different plugins on your wordpress site, You will make it 100% comments spam free and your blog will be 100% secure. Actually spam commentors comment in a way that you find it real comment and also approve and reply them (I also used to do when i started my journey with wordpress). Now Roads are blocked for spam comments on your blog. If you have any question or just want to give your opinion, comment below…