We all are struggling to make backlinks for our sites to get better rankings in SERPs. Here is one technique called link wheel by using which you can get links to get higher position in SERPs by which you can get more traffic to your site.
Link wheel is a great technique to get trust of google and to get higher rankings on google. Many bloggers and mostly event bloggers use this technique to get best rankings in google. Today, I am going to give you detailed information about link wheel. One more thing you should know is Link wheel creation is not an easy technique.
What is link wheel strategy?

What is Link wheel?
Link wheel creation is a technique in which you have to create a wheel of links and you have to give link to main blog also from other blogs. It might be very hard to understand just by text, Now let me explain it graphically.
As you can see that we created a loop of links and also gave link to our main blog from every blog we create. You can create that blogs using free website providing sites like blogger.com and wordpress.com. I will share list of free website creating sites in same article but later.
In link wheel building technique, exactly what you have to do is to create a private network of blogs. For example, if we want to create a link wheel then we have to create number of blogs and we have to create a link wheel by linking them.
For example, if you have 6 blogs created by free site providing sites + 1 main blog then what you have to do is to give link from 1st free blog to 2nd, 2nd to 3rd,3rd to 4th,4th to 5th,5th to 6th and finally 6th to 1st. By this way, you will create a wheel of link and after creating wheel, you just have to give links to your main blog(money blog) from every free blog. This was the answer of the question "what is link wheel?".
Best link wheel creation Strategies
In link wheel creation technique, you can give any types of links as all are your blogs but if you are using this technique for event blogging then I recommend you to use Exact match keyword as anchor text or naked domain and if you want to rank your long term blog then use naked domain or blog name as a anchor text.
There are many link wheel strategies to follow and by which you can get boost in your rankings in SERPs. Main action you can take is to select more number of free web 2.0 blogs to create a link wheel because after creating whole link wheel, if you want to add more blogs then it will be hard to re-connect links.
So, you must create whole strategy before starting work on it. Next I am going to share one trigger for your link wheel by which you can see more effect of your link wheel on your main blog.
There are many tools like Sell backlinks online available for your help to complete your strategy to grow link wheel.
Social Bookmarking your link wheel
By reading this heading, you will think that I am talking about social bookmarking your main blog but its not. You don't have to social bookmark your main blog in link wheel and social bookmarking your main blog will be not beneficial.
You have to social bookmark your free or say web 2.0 blogs. You can social bookmark your free web2.0 blogs any times. By social bookmarking your link wheel, you can see effect in rankings of your main or money blog.
There is no any specific number of post to publish on web2.0 sites but you can post as per your need or mind.
Here is a structure of advanced link wheel which effects more then that of simple link wheel…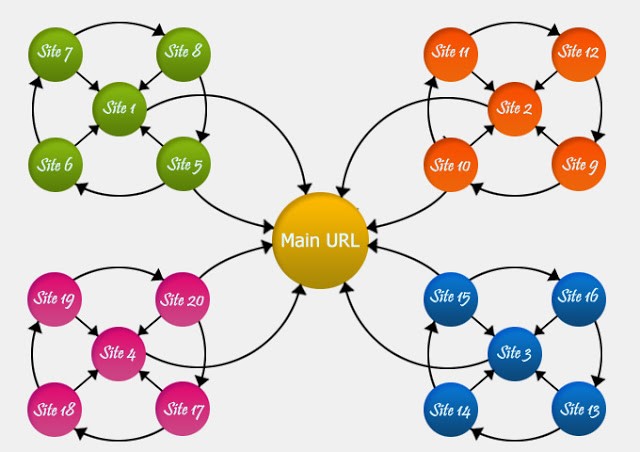 So, by this way, you can create link wheels by which you can get very good SEO boost and Link wheels are legal so till you do something illegal on any of the site, you can get SEO benefit but one illegal thing can penalize your every site.
Finally, I am Sharing 10 sites by which you can get free web 2.0 blogs for link wheel creation.
 Blogger.com
 wordpress.com
 webs.com
 wix.com
 Tumblr.com
 weebly.com
 webnode.com
 jimdo.com
 Yola.com
 ucoz.com
I shared 10 sites by which you can create web2.0 blogs by using which, you can create your link wheel to boost rankings in google.
Conclusion: Link wheel creation is advanced SEO technique to boost up your rankings in SERPs. So, you can use this technique without any hesitation as it is legal till you do something illegal. There are many structures of Link wheels and you can get them easily from google image search. If you have any questions related to this technique then you can comment below. I will solve it…