Marketers are spending more on Content. With the perks of Content Marketing acknowledged worldwide, it is regarded as a critical aspect of Digital Marketing. Every marketer is raising the budget for content marketing and it has increased every year since 2010.
As per the latest researches& surveys, these facts give a clear picture of where Content Marketing stands today:
93% of B2B marketers use content marketing. (Source: CMI)
78% of CMOs believe custom content is the future of marketing. (Source: DemandMetric)
Conversion rates are nearly 6x higher for content marketing adopters than non-adopters (2.9% vs 0.5%). (Source: Aberdeen)
39% of the marketing budget is spent on content marketing by the most effective B2B marketers. (Source: TopRankBlog)
Content marketing costs 62% less than traditional marketing and generates about 3 times as many leads. (Source: DemandMetric)
Given that a blog or a website is the space available online to interact and engage with the audience, why not use it to its maximum? Use this potential space to introduce the audience to your specific field of the business and allow them to communicate back with you.
The Success Formula
Traffic + Conversion = Success
Content Marketing is one of the most practical, effective, and useful marketing strategies today. Content is the basis of this strategy. The more you spend time on content marketing, the more relevant content you will produce on your website or blog. By doing this, you will give a valuable reason to your potential audience to stick around i.e.information that they desire. They shall become familiar with your brand and trust you as a reliable entity, which will eventually lead to higher conversion rates.
Great content is the key to an effective SEO. It attracts the audience and holds them for long. The complex search crawl bots work on the specific algorithms to provide the best results to the searcher in one go. Unique content, with a great number of responses, shares or likes is considered good in the eyes of a search engine. Portraying the image of a website to the search engine, SEO indicates how good is the website for the user. It helps improve search engine rankings of the website. The higher is the ranking, the more is the traffic on the website. And this all comes back to content again. Hence, it is extremely important for businesses to produce high-quality content on their web pages to rank as high as possible on search engine result pages.
Why Content Marketing?
Why do people surf the web? The answer is simple, for finding answers or for online research. They keep on switching pages unless they do not find the precise information they desire for. If you aim to target the specific audience through search results, it becomes important that you give the potential audience what they exactly crave for. With the aid of great content, you do not just capture leads but sell products too.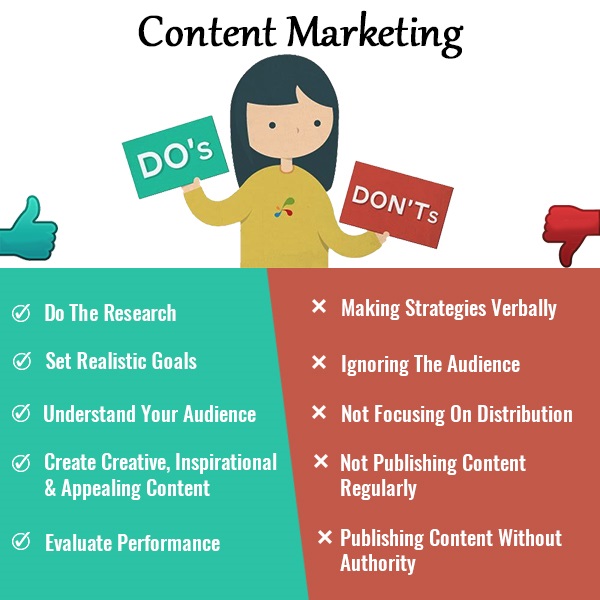 This is when Content Marketing comes into the action. Content Marketing is the type of marketing that structures content creation and its distribution. It is focused on creating and distributing content that is valuable, relevant and consistent to attract and retain specific customers. It helps a brand drive more web traffic and generate more revenue. Aiming to drive profitable customer action, Content Marketing demands strategizing, brainstorming, implementing, analyzing and updating.
Content Marketing Promises:
Brand Recognition
Increased Sales
Customer Acquisition
Higher Search Engine Visibility
Cost Savings
With a number of websites and brands, increasing day-by-day, it is important to have a strong content marketing strategy to make everything fall into place. These are certain reasons that make Content Marketing a necessity:
Web is the most easily accessible online library
People on web search for relevant information
Google and other search engines are always on a lookout for great content
Everyone is working on content marketing strategy
Content marketing also helps in lead generation, reach increment, brand recognition, image development and customer development.
8 Key Ingredients Of A Good Content
Content Is King.
You must have heard this phrase probably a thousand times by now. But do you really understand its true meaning? Content is reckoned to be an integral aspect of effective Digital Marketing strategy. You always require a great content to build a prosperous brand. Like, it is the most important ingredient without which your dish is incomplete.
Many marketers claim that writing good content is a choice. But as per the studies, facts & stats suggest, you should never take content for granted. Writing poor or average content will lead you nowhere resulting in poor or no sales at all. Does it sound like a choice anymore? Content is a necessity.
Today, content marketers will pave their path quite clear to drive traffic, boost SEO, improve search results and increase sales. To achieve everything they desire for their business, they focus on content equally. For all this, you need to have great content on your blog or website.
If you own a content site (a blog or a website), makes it worthy and do justice to it. Here are the key ingredients of a great content. Do not forget to make a note of these!
Unique Content
Always produce and publish 100% original content. Search engines boost sites with only genuine content. In other words, sites with unique content are considered as high-quality websites in the eyes of search engines. Improved site's ranking in search results is another added advantage of producing fresh content.
It is original content only that goes a long way with search engines as well as your visitors. Here original also means originality. Keeping ideas and the content original is praiseworthy as per complex algorithms of search engines and visitors too. Copied or duplicate content is penalized by Google & other search bots landing website owners into trouble.
Strong Headlines
A good headline attracts readers. It holds their interest and invites the to read. As per the survey, around 80% of people read your headlines out of which only 20% of those people read the rest of your content.
The headline being an important part of any content piece should be engaging, crisp, informative and interesting.
Actionable Content
A good piece of content serves specific target audience. It clearly depicts the respect a brand has towards the audience and assures them the benefit of the given information.
Making content actionable also means including Call-To-Action. The content should be good and persuasive enough that the reader urges to want more from the brand ultimately resulting in sales.
Accurate Reporting & Sourcing Information
A blog or a website is a reflection of your company. If people find any issue with your presentation of a blog or a website, they have a tendency to associate these views with your products and services as well. It is always recommended to mention source information when you pick some relevant data or stats from any other website work. Also, check and recheck twice the information's accuracy before putting it under your tag. This practice keeps all the sourcing issues at bay.
Trust me, you don't want to get into the trouble of copyright or any other content accuracy or duplicacy complications. Try to stay away from anything that has even the slightest of the potential to damage your company and your personal reputation.
Thought Provoking Content
Ensure a pleasant & engaging journey for a reader throughout your content piece.Creating engaging content is the only way to attract and hold an audience. An engaged audience hangs on to your every word and consumes everything that you gave them.
Promising introduction with precise & relevant information is the best start to any worthy piece. Make your audience want to read it more through the introduction. You can create thought provoking content by leaving readers with the potential questions that your write-up may arise. It will leave them wondering how to implement the knowledge you provided. You can also have a story woven into your blog post/website content. People love stories.
Images & Videos
Supplement your content with relevant visuals. Use a variety of visual formats such as images, videos, GIFs, animation, infographic, graphs, tables, etc. to make it appealing and eye catching.
'A picture is worth a thousand words.' True it is! Adding visuals assets to your content enhances reading experience and help you illustrate your point. Make sure the images you add are relevant to the topic.
Keep It Short & Simple
Clarity, Correctness, Conciseness, Completeness, Concreteness, Consideration & Courtesy are golden 7C's of an effective communication. Write short and to the point. Nothing gets more clicks than a brief & to-the-point blog post.
Less is more. If your blog post is long, it doesn't mean it is a good one too. Your blog is good with good content, engaging presentation and relevant information.
Update Is Must
Making continual updates to your website or blog is important. You need to update your blog or website with great content regularly for the sake of SEO and new customer acquisition. If you give good content to search engines, it will automatically boost your search ranking. And elevated search ranking shall prove beneficial in increasing traffic to the website.
5 Easy Hacks To Drive Website Traffic & Business Revenue
Your audience will find your brand relevant to them only when they get what they desire. If your brand/product/service provides resolution to the customer concerns, you are a winner. Produce quality content and keep your customers updated with what's new and important for them. This will not only woo customers but also the search engines, resulting in elevated ranking in search results.
Follow these tips to drive website traffic and business revenue:
Introduce your brand
Establish your company's expertise
Learn all about your target audience
Personalize your business
Improve Search Engine Rankings
Leverage the power of content and make your website or blog the best available asset to meet your business objectives. It's not too late to begin if not already. Build your Content Marketing strategy now and get started. Drive more and more web traffic & revenue for your business with one of the most powerful tools available, Content.