The 'Millennium City' Gurgaon has seen unprecedented growth in the past few years and has garnered the interest of both investors and builders alike. Despite COVID, Gurgaon micro market has seen massive supply of both residential and commercial projects and will continue to do so in the times ahead. Retail, as always, has remained the charm of Gurgaon real estate. Retail spaces in Gurgaon offer high returns and involve minimum risk and hence are the most sought after investment instrument in Gurgaon.
Here are a few reasons you must invest in Retail spaces in Gurgaon: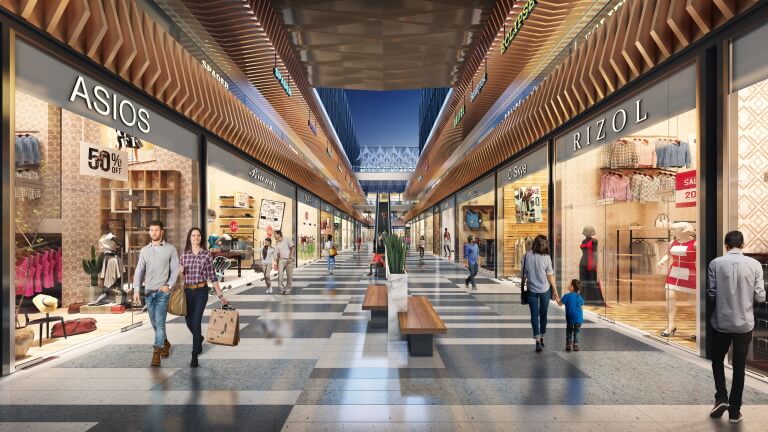 Location:

Spread across a massive area of 732 sq. km., Gurgaon is located adjacent to South Delhi. Ever since Delhi reached its saturation point, both investors and builders started looking for new opportunities in new areas. Its proximity to South Delhi makes it the best alternative for buying a property, both for investment purpose and for end-use. Several Fortune 500 companies see Gurgaon as the most preferred alternative for Delhi and have established their offices here. Rapid urbanization has led to massive investments in physical infrastructure and social amenities. Good quality of life in this cosmopolitan city has always attracted home-buyers. Increase in residential areas has led to increase in demand for retail spaces in Gurgaon. Gurgaon also enjoys excellent connectivity through a network of roads, NH-8, NH148A, Dwarka Expressway and Southern Peripheral Road. Availability of Good public transport facilities provide a further boost to connectivity. IGI Airport is only 31 kms away from Gurgaon. Gurgaon also enjoys direct access to Delhi Metro main line via yellow line. Rapid metro further enhances connectivity within Gurgaon.
Growth Factor:

Gurgaon has witnessed unprecedented growth in the past two decades. Several Fortune 500 companies have their offices here. Good employment opportunities have always attracted youth to Gurgaon. Hence, there is huge demand for good retail, F&B and entertainment options.
Also, Gurgaon is seeing a massive supply of residential properties which will lead to increase in demand for retail owing to increase in basic needs. COVID pandemic has also induced the demand for commercial spaces in Gurgaon. Gurgaon stands as the most livable city post pandemic and people are preferring this 'millennium city' owing to less case load, low population density, and good health infrastructure. This will trigger demands for both commercial and residential properties in Gurgaon.
Best Brands in the market:

Gurgaon micro-market is led by some of the leading names in the industry like DLF, M3M, Adani, Mahindra etc. These developers have changed the skyline of Gurgaon by introducing several iconic projects in the city. With the use of cutting edge technology, innovation, modern architecture, and sustainable methods, these developers have brought never seen before concepts to the industry. Timely delivery, customer satisfaction, and excellence have always been at the core of their vision. They hold a legacy of years of excellence in the industry. Hence, they earn credibility among the investors and home-buyers. Their developments are considered as a guaranteed success.
Wide Range of Options:

Gurgaon micro market offers a wide range of retail spaces by some of the renowned names in the industry. These retail options are located in some of the most promising locations in Gurgaon. Elan Paradise by Elan in sector-50 offers high-end retail options along with F&B and entertainment zones. Similarly, M3M 65th Avenue located at Sector-65, Golf course Extension Road also offers premium retail options amidst a mixed use set up. M3M Broadway at Sector-71 is also one of the best retail investment options in Gurgaon. M3M CornerWalk is also a very promising investment option located at Sector-74, Gurgaon. Retail spaces here are selling out fast and are the most sought after investment options in the region. Other good options are Adani miracle, SCO plots by M3M at Sector-84, 113, 114 etc.
Innovative Concepts:

Effective mall management is necessary for the success of any retail space. Overall maintenance and operation of a mall building along with its services and utilities effectively helps in running it smoothly. Right placement of shops helps in generating cumulative profits for both investors and occupants. Hence, right tenant mix is one of the most important factors in making a mall successful. Retail spaces in Gurgaon have been thoughtfully planned and laid out by implementing the concept of zoning. Zoning has helped retail spaces here ensure smooth movement of shoppers. It has also helped in creating a distinct image among the customers and has formulated the right tenant mix. Besides zoning, 'Dog Bone Zoning' in retail spaces in Gurgaon has also turned out to be a successful concept.
High Returns:

Gurgaon has seen unprecedented growth in the past few years and is a model city for many when it comes to growth and development. The skyline of Gurgaon has changed owing to several iconic developments in the past 10 years. Riding on the wave of growth, realty players came with a number of residential and commercial projects. Gurgaon has seen an uptick in both sales volume and supply in the past few years which has fostered positive sentiments among the investors. Several projects by the leading names in the industry are on cards. Investors can embark upon a new growth story by investing in retail spaces and can earn high returns. Gurgaon micro market is showing positive signs and as per real estate doyens, will continue to do so in the times ahead.

Security:

COVID pandemic has affected almost every investment instrument and it's only wise to be very careful in making any investment. Amidst widespread distrust and risks, retail spaces in Gurgaon have surprisingly been offering good returns. They involve minimum to no risk at all. With several premium residential developments on cards, the demand for retail will only increase in future. But as mentioned earlier, it is always wise to be careful before making any investment and since the Gurgaon market offers a wide range of properties to offer, it is often difficult to select the best one. In this case real estate consulting companies play a crucial role and help us in making informed decisions. One of the best real estate consulting companies in Gurgaon is Elite Landbase Private Limited. They not only help in your property buying journey from the ground up but also provide post sales services.